Nutrition policy across the UK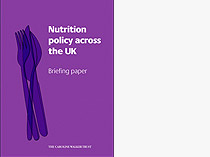 This report looks at current food policy in each of the four administrative areas of the UK: England, Wales, Scotland and Northern Ireland. In order to illustrate differences, and similarities, in policy, it focussed on four topics: the issue of food inequalities, and the public health nutrition policy areas of infant feeding, school food, and childhood obesity.
Latest Twitter Feeds


Load More...