Suzanne Fletcher: CWT Nutritionist of the Year 2020
About Suzanne Fletcher…
Suzanne is the founder of Nutrition Scotland, a social enterprise delivering community food and nutrition services based in Glasgow. She has a Masters in Human Nutrition (Public Health) and is an Association for Nutrition regional representative in Scotland.
Suzanne gained experience working in public health nutrition research, NHS health improvement and the third sector prior to establishing Nutrition Scotland in 2018.  Motivated by her own experiences and values, she wanted to build a business that creates positive social change.  Suzanne works directly with families and individuals living in disadvantaged circumstances to provide free services. A strong collaborative approach has brought about very effective partnership projects with schools, businesses, other statutory and third sector organisations.
Why Suzanne was nominated
Suzanne was nominated for the online food skills programme she developed for young people and their families in response to the Covid-19 crisis.  Prior to the pandemic, she was working with a group of youngsters attending a youth club run by Aberlour Children's Charity. They were cooking together, developing food and kitchen skills and learning about healthy eating. The club offered a safe place of friendship, support and learning for sometimes very vulnerable young people.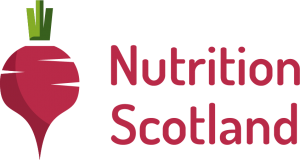 The wellbeing of young people from disadvantaged communities has been disproportionately affected during the pandemic, Suzanne wanted to continue supporting the young people she had been working with prior to lockdown. With support from the Scottish Government Wellbeing fund, she was able to work in partnership with the Aberlour youth workers to create six video recipes showing young people how to cook simple, healthy, affordable meals independently.  Each week the young people were sent a new video recipe and the ingredients were delivered to their homes.  The programme was highly successful and achieved 100% engagement from those that took part, it proved a successful way of maintaining contact and monitoring wellbeing. The programme supported mental and physical health whilst allowing dignified, healthy food provision.
Other projects Suzanne also delivered included a hot food project where nutritious hot meals were prepared for vulnerable people that were shielding, preparation of meals for the food point in Govan which distributes meals to those experiencing food poverty and the creation of a new website.
What Suzanne has to say
"It feels great to be nominated in two categories for a CWT award. This year has been difficult for everyone but particularly so for our most vulnerable and disadvantaged communities. Being recognised in this way is a wonderful and welcome gesture of support." Suzanne Fletcher, Founder, Nutrition Scotland
Watch Suzanne's Acceptance Speech
Watch Suzanne's Nomination Speech

Catch Suzanne online… 
LinkedIn Suzanne Fletcher, RNutr
Website www.nutritionscotland.org
Facebook @nutritionscotland
Twitter @nutritionscot
Instagram nutritionscot
Latest Twitter Feeds



Load More...