Eating Well for Under-5s in Child Care: Nutritional and Practical Guidelines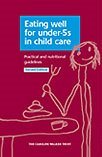 The second edition of Eating well for under 5s in child care sets out evidence for the importance of eating well for under 5s and provides a more detailed and updated rationale for nutrient based standards for this sector. This report will provide the definitive advice on what eating well means for this age group and provides both nutritional and practical advice to all those who are involved in the early years sector.
Latest Twitter Feeds


Load More...